We've all heard the expression, "the greater the risk, the greater the return." The risk/return tradeoff is generally discussed regarding a financial investment, but does the same apply when investing in your home's decor? REALTORS® around the world would vehemently discourage the risks in this ideabook because highly customized homes often yield a lower return when the home goes on the market. But let's focus more on the satisfaction the homeowner receives from realizing their personal vision. For someone who desires to break out of cookie-cutter decor, the risk definitely outweighs any expert opinion.
The lady who grew up envying the doll who had everything can now live the dream in a pink kitchen of her own. Sleek cabinetry in a sweet, high-gloss pink is balanced by white lower cabinets and hardwood floors. This delicate balance keep the space contemporary and less confectionery. Related: Inspired? Here's How to Paint Kitchen Cabinets Like a Pro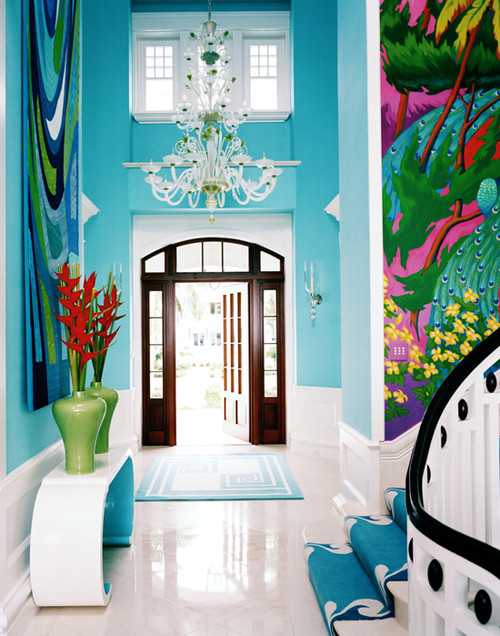 For a colorful family with an appreciation of the arts comes a two-story foyer from Diamond Baratta Design with flair and personality to match. There is so much to love about this space, from its saturated hues to the shiny tiled floors, captivating mural, artsy stair runner and the Murano glass chandelier. The black door, trim and railing add polished accents to this enchanting space.
Purple isn't just for royalty. Enjoy vivid colors in custom drapery and even in your chandeliers. Both can carry a high price tag, but when it's something you love, it's okay to splurge. Many clients request that their decor be unique —something they won't see in anyone else's home. This room and any room you can dream up will fit the bill.
Surprise is the spice of life, isn't it? Or is that variety? Enjoy both with a BlueStar Range that offers a splash of color in a pristine white kitchen. Little kitschy elements like this make even mundane chores more enjoyable.
Count on a wise owl to let you know who left the toilet seat up. Be open to ideas on where to place your uncommon finds and leave your guest with something to really talk about.
When the saints go marching in, it's not enough to memorialize their presence even with a baby grand piano. Why not make a grander statement with life-size, two-dimensional musicians marching in a row? Taking a stand with an artistic statement never leaves guests to question your family's favorite pastime.
Try a less permanent statement when exploring life outside the box. Humorous art that captures moments like the one in this painting would make any parent cringe with embarrassment. The irony lies in the fact that it becomes funny when on display and it's not your kid.
Get Started With RealBird Today! Sign up below.