Introducing the RealBird® Property Search (BETA)
Add millions of listings to your website and blog.
One of the largest and fastest property search engines. Get your own here
Powered by RealBird® and data from Google® Base.
Property search engine with millions of listings nationwide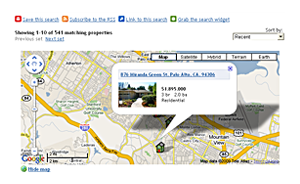 The service is using RealBird's custom technology and data from Google Base. For
the first time in the industry, it allows you to provide your clients with access
to millions of listings nationwide, including For Sale, For Rent, Foreclosures,
FSBO and more. You can service your local homebuyer prospects and refer out-of-area
leads to other agents in your network, for example on ActiveRain or other real estate
networks. Since all leads from this branded service are forwarded and belong to
you, you have full control over what to refer out and which propsects to handle
yourself.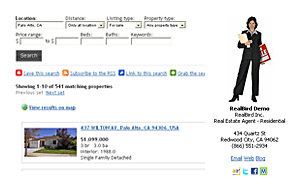 It's your service: your photo, your contact info, your visitors and leads
Just like with IDX search engines, the RealBird Property Search service runs under
your own name and prospect inquiries are all forwarded to you. Every page contains
your photo, contact information and links to your website, blog and social networks
such as Facebook, Twitter, ActiveRain and MyBlogLog. When a visitor registers on
your site their account is assigned to your profile and they can save searches and
listings in their account. When they forward listing information to their family,
share links on their social network or take the search engine as a widget onto their
own blog, the service retains your private labeling. You can also add custom widgets
to the full screen version including your blog feed, slideshows, videos or your
Twitter updates to further customize the service.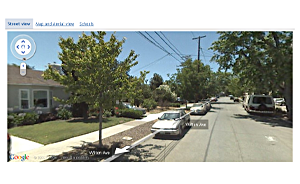 Ultrafast user interface
The system was designed from the ground up to be one of the fastest property search
engines in order to provide your clients an outstanding user experience. Search
results for any type of queries across this vast database are returned on the average
in less than a second.
Mapping, Google Street View and Google Earth features
Of course, no
RealBird service can be without advanced mapping features. The search results
can be instantly mapped on street, satellite, terrain maps and even with the embedded
3D Google Earth. Property details include large Google Street View where it is available
and regular maps. Nearby school information is also provided with the listing details.
Unlimited, preconfigured neighborhood and niche searches
You can set up unlimited, special links, widgets and full screen service for any
search criteria. Create preconfigured neighborhood searches for your blog's and
website's neighborhood pages or create niche searches for your vertical markets.
With the powerful keyword filtering option of the search engine, you can set up
for example searches for "ocean view luxury condos", "3 million dollars+ homes"
or even one for current "gas station" listings. The limit is only your imagination.
You can also create and share custom searches for your existing clients. Use the
search configuration tool to create these custom, predefined search engines and
to generate the permalinks and widget codes for these. It's quick, powerful and
fun.
Customizable
Select from 5 color themes, change the header text and add any number of sidebar
modules to the full screen version to enhance the service with your own content.
You can add your featured listings, slideshows, Twitter updates, blog feed or any
other 3rd party service.
Blog and website widgets, same powerful search engine in different sizes
The user interface of the search engine is designed in a way that it can fit to
the available screen space no matter where you deploy it. A sidebar widget is provided
to easily add access to listings on your blog's sidebar, or you can embed the full-featured
version into your web pages or blog posts and it will automatically resize and hide
unnecessary modules, depending on the available space. You can of course also link
your search engine as a full screen application. Please visit the widget configuration
page to generate these modules.
Web traffic analytics
You can add your own Google Analytics tracking code and get detailed insight into
search visitor statistics.
Visitor and client features
The search engine provides a client account area for your visitors. With it they
can:
Setup an account under your service and save searches and favorite listings for future reference

Save and share searches Save and share properties

Create their own RSS feeds for any searches and get notified when a new property
is listed that matches the search criteria

Grab a search widget with your photo/logo and contact info and place it onto their
own websites and blosg which generates a viral marketing of your service

Share properties on dozens of online social networks and social bookmarking sites

Your Twitter updates and blog feeds are automatically posted in your client's accounts
so that every time they come back and sign in they see your most recent content
Get Started With RealBird Today! Sign up below.